Still hanging with my nebber and watching some great (and some not so great) shows and movies on Netflix. For all posterity (and to make some sense of my boredom) here is the second addition of Asthmatic Movie Reviews.
I can't think of a better way to start than one of my oldest favorite movies. It's Helen Hunt and Sarah Jessica Parker at their finest. Two catholic girls dreaming of competing in the Dance TV contest . . . I have to put this on the "classic must see" list.
I enjoy drinking wine and thought this documentary might be interesting. It follows four candidates training and taking the master somm test. (A somm is the wine expert at the restaurant and a master somm is the highest level you can achieve.) I'd put it on the "a bit slow, a bit interesting, but wouldn't spend the time" list.
Because in his infamous words he teaches the kids at the 'Dereck Zoolander school for kids who want to read good and do other things good', "There's more to life than just looking really really good," I'm gonna put this on the "ridiculously stupid" list.
This silly little musical about the production of a musical had me smiling and laughing and finding the quirkiness quite fun. I'd put this on the "very long but very fun" list.
Love. Love. Love. Love Sandra Bullock. Love her bulky sweaters. Love the hilarious family characters and their witty banter. Love the story. I'd put this on the "love this movie" list.
This heartwarming and hilarious movie follows a career woman whose world is flipped upside down when she suddenly inherits custody of her long lost cousin's baby. I repeatedly laughed out loud as she figures out the ins and outs of motherhood as if landing on an alien planet. One question - why do movies in the early 90's have so many bizarre saxophone and keyboard notes throughout the whole movie? Hilariously distracting. I'd put this on the "cute and should be seen" list.
Set in 1953, an independent art history teacher tries to inspire the college girls that their life can be more than a housewife. I adore Julia Roberts and I adore the 50's and I'd put this on the "worth a watch" list.
With the most breathtaking acrobats, death defying tricks, and unbelievable costumes, I'd put this on the "weird but wonderful, beautiful but bizarre" list.
Spring break has begun so we started it off with a movie snuggle . . . although a bit slow, we'd put this on the "we love Dr. Seuss so we enjoyed this movie" list.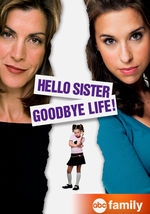 This cheesy (yet quite sweet) story follows a college aged girl forced to raise her half sister after the unexpected death of her parents. I'd put this movie on the "pretty good for a made-for-TV movie" list.
This whimsical interpretation of this classic movie tells the story in a brand new way. The costumes are over the top and the play on color and shapes made it a lot of fun to watch. I'd put in on the "don't expect the Disney version but worth a watch" list.
Two women, both struck with life tragedy, rediscover themselves by trading homes; one in America and one in Ireland. It's an endearing movie that I'd put on the "not life altering but sweet" list.
This spunky comedian was fun to watch. She had some great impressions of different cultures and a few bits that made me giggle. I'd put this on the "didn't laugh hysterically put enjoyed a non-swearing female comedian" list.
Another movie with the kiddos . . . for some ridiculous reason this movie (rated PG) has one character say "crap," another "hell" and at the very end, "oh my G*d." It followed Tad, a wanna be archeologist, as he attempted to find a lost city. Hannah said, "It was sort of good but I didn't like the bad words and I'd put in on the 'I wouldn't watch it again' list."
The girls and I watched the sequel to "Honey I Shrunk the Kids" and found another goofy story of a crazy scientist and the consequences of his shrink ray invention. Haley said, "It was a funny movie that has shrinking. I would put it on the 'watch it again' list but I wouldn't own it."
This hilarious romantic comedy follows a woman whose job it is to convince grown men to move out of their parents houses by 'dating' them. I'd put it on the "fantastic chick flick movie" list. (And Matthew McConaughey is not to bad to look at either . . . )
This sometimes difficult tale of twists and turns and lies and schemes, made me realize I was born in the wrong century as I adore the clothes of the 1800's. I'd put this on the "a witty little comedy" list.
After a police officer offers half his potential lottery winnings as a tip to a waitresses, the consequences that follow become an unlikely love story. I was torn with this movie as part of it was so sweet but I'm not a fan of falling in love with people while you're already married to other people . . . I'd put this on the "nice try" list.
And a short but sweet ending to this weeks reviews, the cake boss. A show I'd put on the "amazing to watch and to pretty to eat" list.
We are headed down to Seattle tomorrow to celebrate the birth of Baby James (my sister's first). They have a c-section planned first thing tomorrow morning. Praying for a healthy baby, a healthy mommy, and some fun new family memories made!!